Dev.a: Tanks and sheet film reels
$

295.00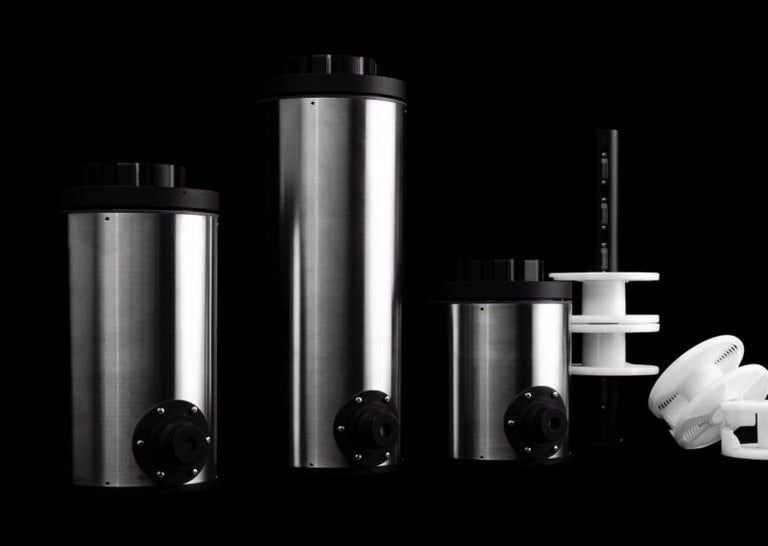 **IN STOCK - SHIPS NEXT DAY** Tanks and reels sold separately (use pull down menu at the bottom of the screen to add tanks to your cart).
*** Old style magnet drive tanks available, please email us for more info.
FILM TANKS
• Film rotation is provided by geared drive
• Film tanks come in three different sizes to support your processing needs as
efficiently as possible.
• With our machine, you can process all commonly available formats, from 35mm rolls to 8×10 sheets.
• For 35mm or 120 rolls, our tanks are compatible with Jobo series 1500 reels or with Paterson/AP reels.
• For large format processing, we will provide our custom reels.
• Rotation parameters, such as speed and inversion interval, can be configured via software.
We have a lineup of three different tank sizes to suit your processing needs. The following table lists film capacity and required chemistry for each tank (different film type combinations in the same tank are also possible).
Small Tank:
• Required Chemistry: 650ml
• 35mm: 2 rolls
• 120: 1 roll
• 4x5: 2 sheets
• 5x7: 1 sheet
• 8x10: N/A
Medium Tank:
• Required Chemistry: 850ml
• 35mm: 4 rolls
• 120: 2 rolls
• 4x5: 2 sheets
• 5x7: 1 sheet
• 8x10: N/A
Large Tank:
• Required Chemistry: 1L
• 35mm: 6 rolls
• 120: 3 rolls
• 4x5: 4 sheets
• 5x7: 2 sheets
• 8x10: 1 sheet
Share